Managing Debit Cards from the Freedom and Security of Your Own Pocket
North Alabama Educators Credit Union and VisiFI
About North Alabama Educators Credit Union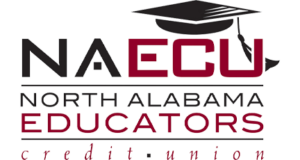 Established in 1955, North Alabama Educators Credit Union (NAECU) strives to serve employees of the local educational community. Originated in Huntsville, Alabama, NAECU has expanded over the years to add branches in nearby Madison and Athens. NAECU currently serves over 10,600 members and has accumulated over $109MM in total assets. Existing for the sole purpose of serving the financial needs of its members, NAECU is guided by the philosophy, "Not for Profit, not for Charity, but for Service."Members own a share of the credit union, and receive value through lower loan rates, higher savings rates, and reduced service fees. North Alabama Educators Credit Union makes it their mission to provide skilled, dependable services that members can rely on.
North Alabama Educators Credit Union's key figures
Enhancing Members' Experience
The process of reporting a lost Credit Card to your Credit Union is often managed through a tedious and time consuming 800 number call. If the problem occurs at night or during the weekend, these solutions are not available, resulting in a frustrating and unsecure situation for members.  
North Alabama Educators Credit Union eliminates these challenges by providing members with the freedom to manage their cards as part of their digital services' offering, allowing the credit union to more efficiently help its members keep their payment methods under control.  
Likewise, this ability provides NAECU with a single environment through which digital service operations can be streamlined and improved, creating the possibility to seamlessly integrate a digital wallet within the online and mobile banking platform. This process results in a unique environment and flow of data through which credit unions are able to ensure a greater experience as well as the avoidance of tools fragmentations and members' confusion. 
Managing Cards: Total Freedom, Total Security
North Alabama Educators Credit Union relies on VisiFI's digital solutions to provide members the power to manage their debit cards from within the freedom and security of their own pockets.  
The Card Management Solution is designed to provide members with the ability to instantly manage their debit card, allowing them to freeze and unfreeze a card, activate a card, and report a lost or stolen ATM card or debit card in seconds and from the convenience of their own smartphone.  
Members can easily perform these activities, simply by logging in to VisiFI's online and mobile banking platform. This ability results in a better experience for members, especially when it comes time to activate a new card, a process which previously involved an 800 number call and relied on the need for the institution to not only process such activity, but also, manage the costs related to its management.
The   implementation   of   this   functionality   results   in   a   mutually   profitable   relationship,  providing  members  with  greater  power  all  while  lowering  the  management concerns and costs for the credit union.  
Another significant improvement related to fraud restraint allows members the capability to freeze and unfreeze a card, ensuring its safety if there is no need to use it. Simplicity, efficiency, and security to keep payment methods under control are important elements which enhance members' experience, even more so amid the recent Covid-19 emergency. In response to Covid-19 North Alabama Educators Credit Union has seen a 12% increase in logins, a 31% increase in mobile banking usage, and a 49% increase in new registrations. 
"Due to COVID-19 we are focusing on strengthening our digital channels solution  to  provide  the  services  that  members  need  and expect.  As of April 22, we have already seen a 49% increase in new  member registrations  (existing  members  that  are  now  registering for mobile banking to fulfill their banking needs)", Greg Olmsted, President/CEO, North Alabama Educators Credit Union. 
Member Experience: An easy, fast and secure way to manage debit cards.
Fraud Restraint: Ensuring the security of member's payment methods.
Operational Efficiency: A unique environment to serve members' digital needs.
Want to know more? Fill in the form and we will get back to you.