The adoption of mobile banking solutions has spiked in recent years, and this was further increased by the rise of the pandemic. Our innovating with purpose methodology ensures concrete advantages for both credit unions and their members, with a win-win approach.
Along with these new capabilities, you'll also gain the added advantage that our experience, technology and innovation bring. It's no wonder more credit unions are turning to VisiFI to do more for their members and their success.
Data and innovation: a grounded approach
We used data and insights from our clients to innovate with purpose and fulfill their needs.
In 2020, the request to propel innovative change in the mobile technologies landscape was further accelerated by the rise of Covid-19. Credit Unions had to put preparedness plans in place to ensure the safety of their employees, business partners, and customers, also needing to find a way to serve their members in this new reality.
In our
analysis
about the impact of Covid-19 on mobile's technologies adoption, we experienced a spike
(+6%)
in the usage of online and mobile solutions. Members' habits and needs changed: people were expecting a safe and easy way to move money, and this was confirmed by a substantial increase
(27%)
in digital payments (P2P) adoption. From a members' standpoint, the ability to manage and access money digitally was crucial.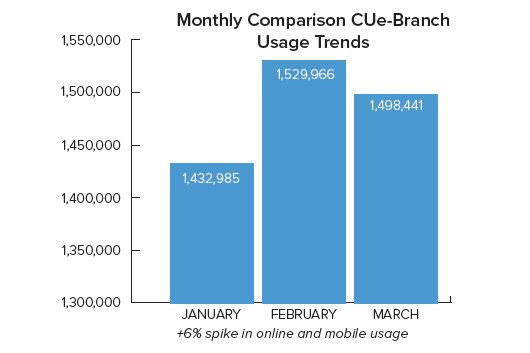 Members' freedom and security: our front-end pillars to support the virtual credit union
What if a credit union member could reach out to a virtual, high-performance credit union, at their fingertips, with great freedom and security?
From digital payments, such as P2P (Person-to-Person Payments) and virtual debit card rewards programs, to ACH origination, bill pay, remote deposit capture and card management: through our mobile solutions a member can perform any operation needed through a consolidated set of seamless solutions – via enhanced interfaces or single sign-on options delivering consistent functionalities, cohesive look and branded design.
Omnichannel and predictive: our back-end pillar to support the virtual credit union
How can credit unions build efficient omnichannel strategies, around their members' needs, using information to predict and respond to new needs and trends on-the-fly?
VisiFI's mobile solutions are fueled by a centralized source of processes, systems and data that ensure consistency and enable a true omnichannel strategy.
Being embedded with the core, these solutions draw from a single source of data flowing securely across the system and organization. Powered with VisiFI's exclusive real-time data management engine, this approach gives credit unions the ability to enhance their member-centric attributes by leveraging an extensive use of their data: predictive money & cash management, savings automation, credit score, debit consolidators, spending habits and recommendations, crossing-selling, and transaction monitoring. Helping credit unions understand how their members behave is VisiFI's way to help them manage their level of service and the overall performance of the organization.
Trends, disruptions and needs: how to efficiently cope?
We mix a forward-thinking mindset, the capability to quickly adapt to changes and an ability to build and deliver solutions that respond to concrete needs.
Contact Us Today To Learn How We Can Help: