Congratulations to our fellow presenter, Gautam Ajjarapu, Founder/CEO of Glide, for winning this year's Shark Tank competition. Gautam presented at our annual customer conference in June. VisiFI is honored to have been chosen as one of the 4 finalists and to share our innovative and future-focused solution on stage with all of these companies.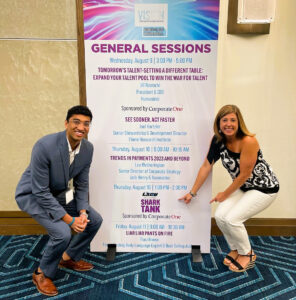 VisiFI has 3 digital products that were developed to help credit unions grow, particularly within the Gen Z demographic. Our Triple Play Digital Solution which includes Digital Account Opening, Digital Banking, and Digital Lending uses behavioral science and AI to provide members with the all-in-one digital experience they want – each and every time, day or night, from their couch, their car or in the branch. More than just an online technology, VisiFI's Triple Play helps credit unions develop and strengthen relationships by providing branded solutions that deliver positive interactions.
Digital Account Opening – easily initiates new member relationships
Online and Mobile Banking – for anytime, anywhere services and account access
Digital Lending – helping to bring loans back to the credit unions
VisiFI supports credit unions' missions to deliver enhanced services to current members and to grow membership in the younger demographics. So, even as consumers change the way they shop, manage finances, and even communicate – it doesn't change the value of the relationship they have with their CU. That's the beauty of the VisiFI Digital Platform.
To learn more about our Triple Play, contact us today.